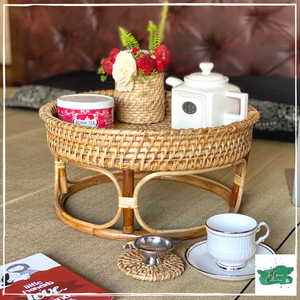 SEHER
meaning: dawn, day break 
This our very own breakfast-in-bed table, handmade most lovingly by our artisans. This lovey table is in two types of weaves, the chataai and the bunaai.
Use this to self-indulge or surprise your favourite person with a perfect breakfast set-up. Alternatively, use SEHER as a low side-table to show off some tray vignettes... keep experimenting!
The product is finished with a coating of clear varnish to maintain the natural look. The varnish coating allows for easy clean-up.
SIZE:
Diameter - 16 inches
Tray Height - 3 inches
Total Height - 8 inches
PRODUCT CARE:
Keep dry, and clean using a soft cloth. Use a soft bristle brush to clean dirt accumulated between the weave. Do not use bleach or abrasive cleaning tools.Do not leave exposed to the elements.
DISCLAIMER:
There may be minor variation in size, colour, weight, shape, etc. as all products are HANDMADE using natural, eco-friendly raw materials.