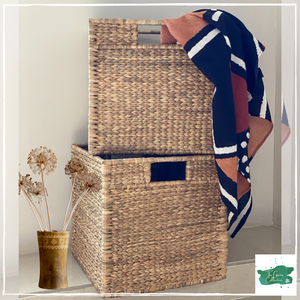 Our "ROYAL MESS" Storage Basket is multi-utility and can be used to stash away anything unwanted, right from winter cushions and throws, to clothes, stationery, kids' toys or just to hide (in plain sight) that ugly jumper your partner got you this Valentine ;p
Made with water hyacinth, a plant considered a parisitic weed, this basket is made with the dried and treated plant, which is then braided along a metal frame. At once delicate and hardy, the natural colour matches all interiors. It is lightly coated with varnish to last even longer!
SIZE:
L - 12", B - 12", H - 12" 

PRODUCT CARE:
Keep clean using a soft cloth. Use a soft bristle brush to clean dirt accumulated between the weave. Do not use bleach or abrasive cleaning tools.
DISCLAIMER:
There may be minor variation in size, colour, weight, shape, etc. as all products are HANDMADE using natural, eco-friendly raw materials