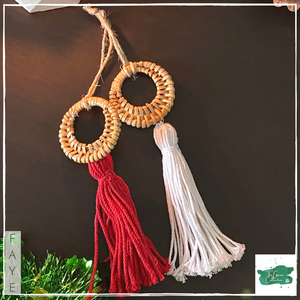 FAYE
meaning: fairy
This dainty charm looks like a little fairies hanging from your tree. Add them on naked branches or a fuller tree. The cane circles are masterfully handwoven by our artisans - the skill will leave you in awe this Christmas! 
Buy these for an added boho feel to your tree or gift these to family/ friends who dig handmade and sustainable products
The macrame hangings come in two colours - RED and WHITE, and are made using natural cotton. The loop on top is made of natural jute
SIZE:
2in Dia x  6in L (including macrame hanging, excluding loop)
PRODUCT CARE:
Keep dry, and clean using a soft cloth. Use a soft bristle brush to clean dirt accumulated between the weave. Do not use bleach or abrasive cleaning tools.Do not leave exposed to the elements.
DISCLAIMER:
There may be minor variation in size, colour, weight, shape, etc. as all products are HANDMADE using natural, eco-friendly raw materials.